Dental Hygiene & Teeth Cleaning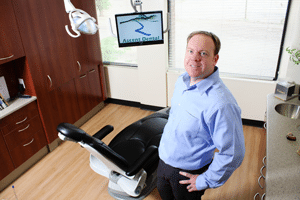 If you need a dental exam in Denver and are overdue for a checkup, Ascent Dental Group is here for you. We offer a full range of general dentistry and preventive dentistry services in Denver, and we're always accepting new patients. Contact us now to schedule an appointment!
Six-Month Teeth Cleanings & Oral Exams
Six-month checkups are the cornerstone of general dentistry in Denver from Ascent Dental Group. They allow Dr. Johnston and our team to track your dental health over time, and recognize the early signs of potential issues like gum disease and tooth decay.
By seeing us for a dental exam every six months, you can reduce your risk of these oral health issues, save time and money, and get peace of mind. Dental exams in Denver from Ascent Dental Group consist of:
Teeth cleaning – A hygienist will scrape away tartar from your teeth, polish them, and floss them to remove any remaining debris.

Oral exam – Dr. Johnston will examine your teeth and gums to look for any signs of oral health issues and ensure you're free of gum disease and tooth decay.

X-rays – X-rays are usually taken every year to check for hidden oral health issues. We use the latest digital x-ray technology.

Oral cancer screening – Dr. Johnston will look for signs of oral cancer during your exam. Oral cancer is a rare condition, but often goes unnoticed unless it's recognized by a dentist.
Fillings
Fillings are the best way to restore teeth affected by tooth decay. We offer tooth-colored fillings in Denver, and can treat your cavity before it gets worse and requires treatment like a root canal and crown.
 Dental Bonding
Bonding is similar to a filling, but is used to reshape and restore the outside of your tooth, covering up problems like stains and chips, or restoring misshapen or uneven teeth.
 Dental Crowns & Bridges
Crowns are tooth-shaped prostheses that cover up damaged or decayed teeth, protecting them all the way down to the gum line. They're usually made of porcelain.
Bridges are similar, and use two crowns to restore one or more missing teeth. Two crowns are attached to healthy teeth, and a false tooth rests between them, "bridging" the gap where the missing tooth used to be.
 Dental Implants
Dental implants use a surgically-placed implant and a dental crown to permanently restore one missing tooth. They're durable, last 30+ years with proper care, and will never shift or move.
 Veneers
Veneers are thin shells of porcelain that cover up the front surfaces of your teeth, covering up cosmetic flaws and restoring your smile.
 Teeth Whitening
Teeth whitening uses powerful chemical whiteners to remove and reverse stains and yellowing, which restores your smile and your self-confidence.
 Why Choose Ascent Dental Group For General Dentistry In Denver?
 At Ascent Dental Group, we use the latest technology and best practices to provide superior comprehensive and general dentistry in Denver. We're a one-stop-shop for all of your oral health needs.
Whether you just need a dental exam, you're interested in cosmetic care, or you need help with serious oral health issues like cavities, missing teeth, or gum disease, our team of experts will provide you with the personalized treatment you need to restore your smile. 
Contact Us For General Dentistry In Denver – Get Started Today!
Overdue for a dental exam in Denver? Ascent Dental Group is the best choice in Cherry Creek for general dentistry! Contact us online or give us a call at (303) 975-6987 to get started.